People have been asking about what's happened since my last post, since it said that I was taking a break from TV but they've been hearing thatI'm back at work. Actually, I've gotten the best of both worlds. I'm still in TV, but most of what I do now is write. :)
Many things have happened since the last post, among them:
1) My articles on the Parenting Foundation, a foster care facility; the Ng Sys, a family that's been fostering babies for 20 years; and restorateur Tanibel Lee of the very popular Annabel Lee's Cheescakes were published in Tulay's January 3, 2005 issue, the first one for the year.
The
Tulay Fortnightly
is a Chinese-Filipino newspaper that comes out every two weeks with the Chinese Newspaper World News. Copies can also be obtained at Kaisa Para sa Kaunlaran, located at Anda cor. Cabildo Sts., Intramuros, Manila.
2) I started work. I'm in charge of the QTV website content. I'm really excited becuse there's so much potential there. It's up already up and running but there's still so much that needs to be done, and I really want it to be kick-ass, well. as kick-ass as a feel-good website can get.
3) Visited the set of
Sugo
, where I got to interview most of the main cast. I've never seen such a laid back production where everyone's relaxed and friendly. I'm impressed. I'm floored. I'm awed. My experience with waiting to interview stars during soap tapings include going without food, being ignored by the staff and waiting literally
all day
to interview
one
actor. Of course, that was a different time, and a different station. ;p
4) Visited the set of
Nuts Entertainment
, where I got to watch them tape the "Manibela" and "Korteng Mani" segments. "Manibela" is where serious actors have to follow whatever the narrator (Joey de Leon) says to further advance the storyline. I don't know if I'm allowed to say who guested before the show airs but needless to say, it was a lot of fun. "Korteng Mani" is their new segment that's set up in a courthouse. The defendant is accused of a crime (the first ever "Korteng Mani" featured Mark Herras charged with being a babaero) and is interrogated. The show's interesting because it gets away with a lot of stuff precisely because of its comedic format.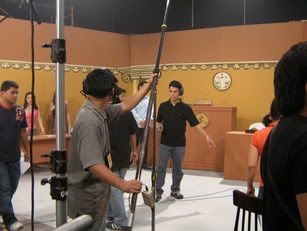 5) I attended the press con for
Let the Love Begin,
Richard Gutierrez and Angel Locsin's newest movie. The had really good food there, probably the best laing and kare-kare I've ever tasted. They showed clips of the movie, which looks promising, with lots of kilig moments. Not that I'd watch a movie that doesn't have either blood, fight scenes, or Edward Norton, but I'm sure that
Let the Love Begin
will fulfill every love story junkie's sugar craving. I'll be writing articles for all three set visits (okay, a press con isn't a set but you know what I mean) that will appear in igma.tv.
Whew! That's just some of what I've been up to the first two weeks of the new year. And you know what? I may be really busy and tired all time but I'm enjoying every minute of it! I still have to get used to having a 9 hour workday, as I've almost always had jobs with flexible schedules. Now my only problem is how do I fit my training and my otehr writing into my day? Oh well, nothing is perfect, but for the meantime, this is as close to it as I get!