14 January, 2006
Strangely enough, I just realized that despite my freelancing for a music magazine for some time now, I haven't ever interviewed a local band, much less a local band that I respect, for print. What I cover for TV doesn't count. My interviews have always been of foreign artists, the most interesting of which was my interview with Chino Moreno of the Deftones. He was really smart and articulate and fun to talk to. Later, I heard that the people from Warner USA e-mailed the people from Warner Philippines saying that that interview was one of the best interviews of the band, ever. That was so cool!
Anyway, tonight, I got to interview my first local band. The experience was extra special because the band I interviewed was Pedicab, my favorite local band. I was half delirious with excitement. What do you say to the band you've put on a pedestal? Luis and I were making up scenarios where all I would do was stutter and not say anything coherent.
Fortunately, that did not happen. The band was very nice. They answered all my questions, commenting that some were good and hadn't ever been asked before. I guess the advantage of being a fan of your interviewee is that you unconsciously prepare more, and that since you know a bit more about them than the average person, your questions tend to be more interesting to them.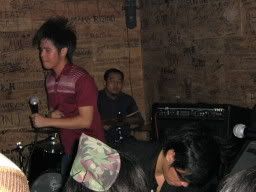 Everyone was eloquent, with bits of light banter in between the band's answering of questions. I was so nervous that I felt like a rookie again, out on her first assignment. Fortunately, I think that this counts as a very successful first assignment. I hope that when the piece comes out, my article gives them justice.