Shopwise members, the 3rd issue of Gusto is out! Its got hunky surfer dude Echo Rosales on the cover, with the story on him written by yours truly. Here are some photos that I took at the shoot at the Panday loation somewhere in the hidden hills of Rizal.
Here's Echo in Panday in action:
Echo during the Gusto shoot:
Echo posing for his adoring fans (in this case, the Gusto staff):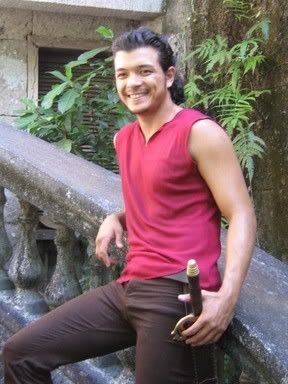 Too bad I didn't get a picture of his cute younger brother Nookie, who was also at the set. Echo was a joy to work with. He's thoughtful, charming, gallant and, to quote Kuya Che, our photographer, "nakakabakla" (buti na lang babae ako!).
I also have an article in this month's issue of Entrepreneur magazine about using friendly competition to motivate your sales force. Go buy! Go buy! :)