This is what Interlace has done to me:

March 30, 2006, I was asked to cover the Yes! magazine 6th Anniversary celebration and -- get this -- I had fun!

I know I work in media but this has not prevented be from being, what I like to call introverted (and what others like to call anti-social -- hoy, anti-social lang, ha, hindi sociopath). I don't do small talk, I don't do the air-kiss thing (at least, not often) and I do not (unless coerced, medicated or slightly tipsy), approach people just to say hello. But I did all that and more, all while being underdressedin in a black racerback, ratty jeans and dying (albeit cute and comfy) flip-flops. I was using my gorgeous faux-velvet messenger bag though, so it quite makes up for everything.

The reason I was so underdressed was because everyone in the office thought the party was on the 31st. We didn't find out until the day itself that it was actuallyon the 30th. So, inlike the invitations request to dress "chic and fashionable," I and Mitch, our photographer, were probably the most underdressed (but arguably two of the prettiest) people there.
I got a mini makeover courtesy of the L'Oreal booth (love the Glam Shine lipstick, and am going to buy myself a ton of their mascara), so I wouldn't have to feel so naked. I also mt some acquaintances, namely Roxane Guinoo, who said I got fatter (yeah, yeah); Janice de Belen, who recognized me from a former incarnation; and Echo Rosales, who intoduced me to his girlfriend, Heart Evangelista. Bamboo (the band) performed, with Bamboo (the singer) going around the party area during his song numbers. At one point, he sat at my table and was singing to me, me, me, bwahahahahaha! Okay, I'm not a big fan, but my friend Crissy is, even if she says she's over him. It's an interesting experience. Unfortunately, this happened after Mitch left, so she wasn't able to take part in the Bamboo experience.

I don't know if it's a good thing, because of my job, or a bad thing, because, well, it's, like, showbiz, you know, it's so chaka. I'm going to take this opportunity to apologize for my Tagalog. I learned it while working in TV, where words like chuva chenes choo choo is part of the vocabulary. As Joel commented on the chat bar, nagiging showbiz na ako.
Which brings us back to Interlace.

Interlace is an Industrial band whose Asian tour included three performances in our humble little archipelago. Luis asked if I wanted to interview them, and I said yes (Thank you, thank you!), and am I glad I did, because the encounter may very well have changed my outlook (see above).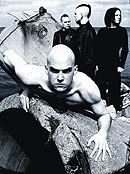 I caught them in Absinthe, their last Manila gig. Though they seemed unomfortable performing in such a small space (This was later confirmed, when they said that teir Manila gigs were the first time they've played to a small crowd. They're used to an audience of 1000, 500, at the very least. You get the full Interlace experience that way.), they were, what's the word, amazing!
Not only do they have great music, they put on a mean performnce (the sight of Oscar, the vocalist, kneeling as he stares lovingly at a mask just takes my breath away). What they did on stage was everything I've been searching for in a musical act (you can tell I don't get out much) -- good music, intense atmosphere, and a powerful performance borne from passion for their art. Even though they spent the whole performace barely moving, their faces covered by gas masks and bodies protected by leater gowns, the presence of the otehr three members were poweful nonetheless. They exuded wisdom and puropse, as if the music they made was the energy that gives life to the superhuman in front of them.

I had the opportunity to interview the band after. Oscar spoke in behalf of the band, so that's who I'll be quoting in my article, which comes out in the second issue of Burn. After the interview, I got to chatting with Max, one of the keyboardists. What Oscar didn't talk about (because the band didn't want the media writing about it -- nothing scandalous, just a lot of the band's philosophy that they want their audience to figure out for themselves), Max filled in -- of the record, of course.

Both of them are such gret conversationalists. They're smart yet laid back. They've painstakingly worked out everything about their band from the concepts beihind their albums to the images on their video screen, so that when they say theywant their audience to figure the meaning of their performance out for themselves, they mean it. I am so thankful to have been able to hear the Interlace philosophy. The experience was almost spiritual.

The whole thing -- the ambience, the (half-goth) crowd, the performance, the interview and the conversation did something to me. I was there at that event alone and yet I didn't feel scared or out of place. I was chatty (at least for me), and spent the night chatting people up. I don't think I've ever been as comfortable in a social event as I was that night. And with no one there with me, too (pats self on back)!

And that's why I'm suddenly chatty. That's why I've suddenly started going up to acquaintances and saying hello, so glad to see you again. Not because it's the showbiz thing to do, but because I'm genuinely happy to see them. All that, because of Interlace. And though my sister may call them 'scary' (I showed her my pics), I love them because they've made me see the beauty in living.

Interlace promo photo from:
http://www.chainsaw-beats.de/foto/interlace_02.jpg